What Are They | Hellfire VS Diablos | Diablos VS Black Mamba | The Blend | What To Expect | Disclaimer | Warnings And Side Effects 
Have you ever felt confused when it comes to choosing between different products from the same brand? It happens to all of us! Today we're here to help you with Innovative Lab's fantastic trio of fat burners: Hellfire, Black Mamba, and Diablos ECA. In this post, we'll be comparing Hellfire VS Diablos ECA and Black Mamba and Diablos. And if you're curious about other comparisons, we've got you covered! Take a look at some of our other blogs below and discover even more valuable insights!

What Are Hellfire, Black Mamba, And Diablos?
These remarkable products are all fat burners created by Innovative Labs. They have gained recognition for their potent stimulant and thermogenic properties, making them effective tools for burning fat.†

How Does Hellfire & Diablos ECA Compare? (1,2)
When you compare the labels between Hellfire and Diablos, there are three main variations you have to note. First, Diablos ECA Fire Caps contain 75mg more caffeine than Hellfire. This is roughly equivalent to an espresso. The total caffeine content in Diablos is 225mg to Hellfire's 150mg.
Next, we have to address the ephedra, which is likely what drew you to Innovative Lab's fat burners. Hellfire Fat Burner contains 100mg more ephedra compared to Diablos. Whereas Diablos has only 50mg, making it the least amount of ephedra compared to Hellfire and Black Mamba. Luckily, the average dosage range for ephedra is between 25-50mg, and with its synergistic effect with other stimulants like caffeine, 50mg is a nice sweet spot. 
Finally, we have to go over the blends. In comparison, Diablos has around 40mg more active ingredients in its blend compared to Hellfire (275mg compared to 235mg). Because these are proprietary blends, we don't know how these milligrams deviate between the ingredients in the blend. However, we can see that there are more ingredients within the blend of Diablos compared to Hellfire.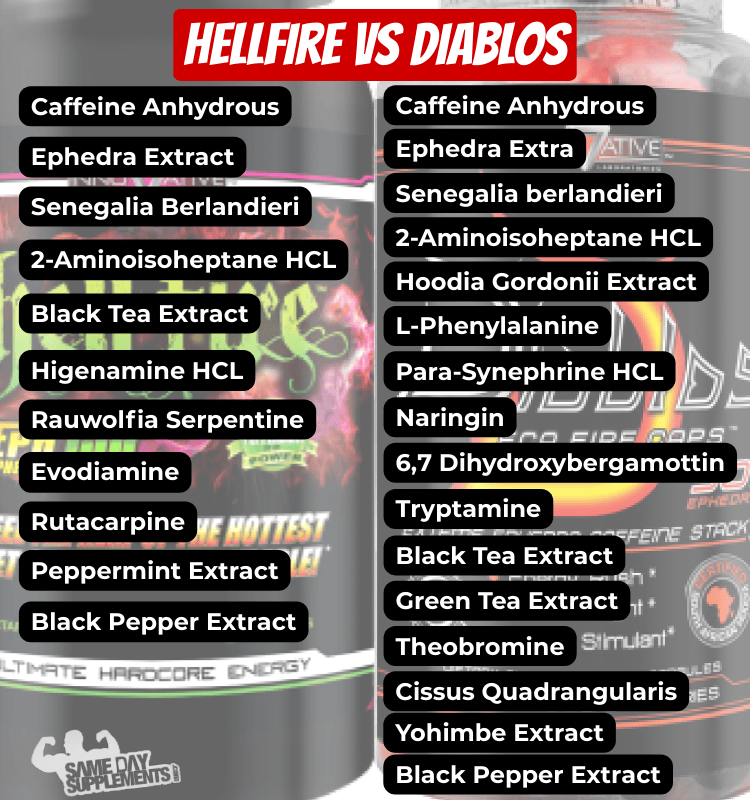 The Blend (3,4,5,6)
Within the blend, there are four ingredients shared between these fat burners: Senegalia Berlandieri Extract, 2-Aminoisoheptane HCl (DMHA), Black Tea Extract, and Black Pepper Extract. Here, the Senegalia Berlandieri Extract and the DMHA are additional stimulants shared between the fat burners. The Black Tea Extract, however, may act as an appetite-suppressant ingredient. Finally, Black Pepper Extract is often used in dietary supplements to increase bioavailability. Meaning to increase how effective each ingredient is when digested. However, it may also act as a thermogenic.†
Outside of the typical fat burner ingredient classifications, two ingredients in Diablos aren't very common; Tryptamine and Cissus Quadrangularis. Tryptamine is a metabolite of the amino acid L-tryptophan, which is a precursor to the neurotransmitter serotonin. (16) By including this metabolite in Diablos, there may be additional support for mood-boosting properties.
However, there would need to be more research in this area. Next, we have the Cissus Quadrangularis, which is a herbal ingredient packed with antioxidants. It's more common to see this ingredient in products related to joint health. Yet, some studies indicate that this ingredient may be beneficial in weight loss, weight management, and prevention of metabolic syndrome. (17)

Diablos VS Black Mamba: Ingredients
Likewise to our Hellfire comparison, when you review the labels between Black Mamba and Diablos, there are three main variations. 
Diablos ECA Fire Caps contain only 25mg more caffeine than Black Mamba. The total caffeine content in Diablos is 225mg to Black Mamba's 200mg. Next, Black Mamba contains 15mg more ephedra compared to Diablos (65mg compared to 50mg). Finally, the blends. Diablos has around 15mg less active ingredients in its blend compared to Black Mamba (275mg compared to 290mg).
---
How Black Mamba VS Diablos Compare:
Between Black Mamba and Diablos, there are more shared ingredients within the blend: Senegalia Berlandieri Extract, 2-Aminoisoheptane HCl (DMHA), Yohimbe Extract, L-Phenylalanine, Naringen, and 6,7 Dihydroxybergamottin. What makes's Black Mamba different is the Synephrine HCl, Hordenine HCl, Evodiae Rutaecarpa, and Carallume Extract.
Synephrine HCl is like ephedrine. This stimulant is also a strong appetite suppressant. It works by acting like adrenaline when ingested. This helps increase metabolism and boost energy without increasing blood pressure. (19)
Hordenine is similar in chemical structure to Synephrine. Because of this, they work similarly. These enzymes work in your brain to degrade the amount of dopamine, serotonin, and PEA your body has. By inhibiting this, hordenine may lead to more overall dopamine within your system. Which may help to boost your mood. (20)
Evodiae Rutaecarpa Extract shares similar effects to capsaicin. This is due to its vanilloid receptor agonistic activities. Therefore Evodiae will aid in thermogenesis. (21) Finally, Carallume Extract comes from a cactus. Studies indicate it may help with weight loss with its appetite suppression effects. (22)

What To Expect:
Overall, the products are matched pretty well when you compare Hellfire Fat Burner to Diablos ECA Fire Caps or Black Mamba to Diablos. The main deciding factor on which fat burner you should go with is going to be on stimulants. If you really like ephedra, Hellfire may be the better option as it has more. But, the combination of more caffeine and potentially more stimulants from prop blend in Diablos make it a great substitute to Hellfire.
But if you're really looking for appetite suppression and mood-boosting effect, Black Mamba might be the better option. Yet, we expect Diablos to engage more of the thermogenic effects, like increasing sweat excretion during workouts, compared to Hellfire or Black Mamba. So if you were looking for a fat burner with a strong stimulant profile and thermogenic profile, Diablos may be the better fit. 
However, keep in mind; individual experiences may vary. Now let's check out some of the reviews!
Hellfire Reviews: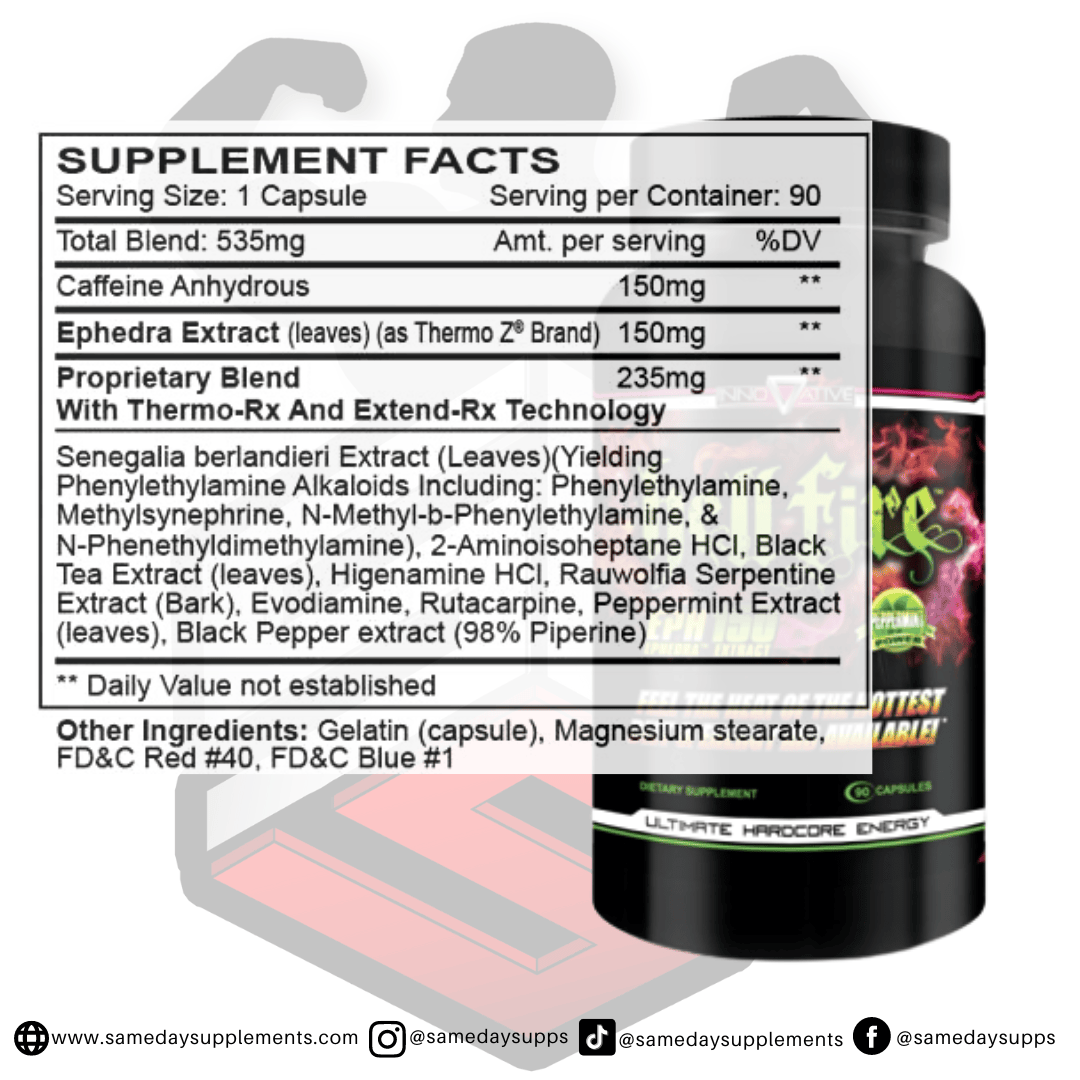 Customer Review By Elivs: "Your body heats up for hours, it's great."
---
Customer Review By Norman: "This is the real deal. You won't have a single food craving for hours. It crushes your appetite. I love it. It's my new best friend."
---
Customer Review By Gary: "I decided to try something new as a tool to keep my weight where I wanted it to be. So I tried HellFire Fat Burner, and I am so glad I did. First of all, the capsules were simple to take and not bulky like other products. Secondly, it did not cause me to get "the jitters" like other products have done in the past. But, most importantly, this actually helped curb my appetite so much so that i don't even any hunger pains. Now, I don't know if my stomach knows the difference, but the rest of my body is pleasantly pleased!"
---
Black Mamba Reviews:

Customer Review By Ishan: "Black mamba above all believe what it says"
---
Customer Review By Tammy: "Strong fat burner. Works great for me."
---
Customer Review By Rob: "I basically began taking this as a pre workout, and the energy I receive is unmatched! It is not too powerful, but it is not weak either. You can really feel the ephedra working. I sweat like crazy during my workouts now. I highly recommend for energy and weight loss."
---
Diablos Reviews:
Customer Review By George: "I bought this fat burner since Hellfire has been out of stock for a while, and I was pleasantly surprised by how similar this is to Hellfire. It is a little lower in the ephedra content, but this felt a lot better than the Hellfire did. I think I just found my new fat burner of choice!"
---
Customer Review By Devon: "These are amazing I don't have jitters and they keep me going all day along with a great work out! Will definitely buy more."
---
Customer Review By Sammy: "It was recommend to me as the fat burner I usually get was out of stock everywhere. Diablos is a Great fat burner. IMO its a good replacement while hellfire is out."

Wrapping Up!
And this marks the end of our post on the Innovative Lab Fat Burners. Thank you for reading! And as always, if there was something that wasn't clear, another question you might have, or if you have another idea for a blog, Email Us!
Are you looking for more to read? Check out some of our other blogs!

Warnings And Side Effects:
Read the entire label before taking this product. As with any dietary supplement, we recommend that you consult a physician before use. This product is not intended to diagnose, treat, cure, or prevent any disease. KEEP OUT OF REACH OF CHILDREN or anyone under 18 years of age. If you have or had a medical condition or are currently using prescription drugs consult your physician before use.
Avoid this product if you have any previous history of medical dysfunction or disease, including but not limited to:
High blood pressure
Heart, kidney, thyroid, or psychiatric disease
Difficulty urinating
Prostate enlargement
Anxiety
Depression
Seizure disorder, or have had a stroke
Do not combine this product with other medications or supplements. Do not exceed the suggested servings. Consult your doctor before use if you are taking any prescription drugs. Consult your health care practitioner before beginning any weight loss program. This product can raise your blood pressure and interfere with other drugs you may be taking. Talk to your doctor about this product.

Disclaimer:
†PLEASE NOTE: The intention of the information provided is for reference only. Furthermore, we are in no way providing medical advice or instruction. Instead, the information provided in this guide/blog utilizes anecdotal information and available studies/reviews. While our goal is to maintain and display accurate information, we can't guarantee it represents the latest formulation of the product or information. Therefore, please visit the manufacturer's website if you have any concerns. Also, the information above does not represent our views here at Same Day Supplements. Instead, these are the manufacturers' and users' views and information. The Food and Drug Administration has not evaluated these statements. Finally, these products aim not to diagnose, treat, cure, or prevent any disease or illness.